Portable Digital X-ray Inspection Systems
VISION-X MK8
Real time x-ray system with very high resolution amorphous flat panel.
Amorphous silicon flat panel
Very high definition (16bits)
65.536 level of grey
Active area 43 x 36 cm
Resolution 139 µm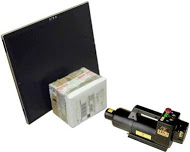 Compact waterproof case of 62 x 51 x 36cm including:

The high resolution flat panel

The computer
The X-ray generator
All the cables, charger and accessories of the Vision-X MK8
Fast and easy to use
Fully battery operated
Compact and lightweight
High quality of the image
Netbook and control
Processor: Intel Pentium Dual Core Processor B960M (2.2 GHz 1333MHz 2 MB)
Operating system: Windows 7 or Windows 8 Display type: 15.6″ HD AntiGlare 1366×768 System
Graphics: Intel HD Graphics
Total memory: 4.0GB PC3-12800 DDR3 SDRAM 1600 MHz
Hard drive device: 500GB 5400 rpm minimum Optical device: DVD Recordable
Network card: ThinkPad 11b/g/n Wi-Fi wireless Bluetooth: Bluetooth Version 4.0
Battery: 6 Cell Lithium-Ion
These are the minimal specifications required and can be changed with the market.
Tablet (in option)
We can provide in option a tablet for the control of Vision-X and for the reception and storing of the images.

The software is the same as on the netbook but it is suitable for use on a tablet with touchscreen function.

Together with the small ICU, this is a very compact system easy to carry anywhere.

We can provide Rudggetised Netbook or Tablet.
Software
Multilanguage operation (English, French, Spanish).
Tooltip texts to help the operator.
Images storage limited by the size of the Hard disk more than 50 000 images.
Zoom in 5 areas of the image or region of interest (ROI) ZOOM, or Pan Zoom.
X-Ray exposure adjustable timer.
1 or 4 consecutive shots session for quick operation.
Audible alert during X-ray activation.
Easy access powerful image database with images parameters and operator comments.
Copy / paste an image from and to an external user or commercial program.
Image processing and Image enhancement:
Brightness and contrast adjustment
Image Polarity, Rotate, Zoom, sharpness, emboss, mirror
Sharpness
Shading correction
Filters: low, median, maximum, smooth, sobels, laplacian
Edges detections
Equalize histogram
Pseudo colors
Restore Original Image Functions
CorrectShading: Correct non uniform illumination of the scene
EqualizeHisto: Equalize the histogram so it appears to be flat
InverseGrayLevel: inverse the polarity of the image
SaveImage: Save the source image into the destination image. If the extension of the destination file name is not the same as the source, the image is converted to the format corresponding to the new extension. The supported extensions are .tiff, .jpeg, .jpg, .gif and .bmp
Smooth: Smooth the image using a Gaussian kernel undistortAndCrop
Correct radial deformation of the image due to the camera lens
UndistortAndCrop: Correct radial deformation of the image due to the camera lens
Flat panel
Amorphous silicon flat panel

Dimensions: 45 x 38 x 1,5cm

Active area: 43 x 36cm

Solid state no mechanical pieces

16 bits Image for a very high image quality

Actually one of the most powerful on the market!
Cable
50m cable for connection between the control unit and the camera box.

In option:

25m cable
75m cable
Or optical fiber cable transmission (length not limited)
Wireless transmission
For a wireless transmission. No need of power or charge. Connected to the camera box. Very fast data transfer.

Range more than 200m (line of sight)
Dimensions: 18 x 18 x 7cm
Tripods for icu and generator
Special tripods with adapter for use with the Vision-X and the Golend X-ray generator.

Minimum height: 10cm Maximum height: 170cm
X-ray generator transmission
For a wireless transmission between the camera box and the X-ray generator.

No need of charging or external power. Range more than 200m (line of sight)

Dimensions: 9 x 9 x 4cm
Due to constant development, specifications are subject to change without notice.
X-ray generators
These small, lightweight x-ray generators operate on their own removable battery pack. They produce x-ray pulses of very short duration (50 to 60 nanoseconds) and a relatively low dose rate comparable to a 0.25 ma constant potential machine.
XR-150

Lightweight X-ray generator
Penetration: 16mm steel
Maximum photon energy: 150 KVP
Pulses per second: 15
Number of counts per exposure: 1 to 99
Pulses per charge: 1.500
Dimensions: 26 x 8 x 10cm
Weight: 2kg with battery

XR-200

Proposed in standard for most applications
In the security, Army, police, NDT, etc.
Penetration: 16mm steel
Maximum photon energy: 150 KVP
Pulses per second: 25
Number of counts per exposure: 1 to 99
ukses per charge: 4000
Dimensions: 32 x 11,5 x 19cm
Weight: 5,5kg with battery

XRS-3

Heavy duty X-ray generator
Penetration: 28mm steel
Maximum photon energy: 270 KVP
Pulses per second: 15
Number of counts per exposure: 1 to 99
Pulses per charge: 4000
Dimensions: 35,5 x 11,5 x 19cm
Weight:5,5kg with battery

XRS-4

Specific and industrial applications
Penetration: 38mm steel
Maximum photon energy: 370 KVP
Pulses per second: 10
Number of counts per exposure: 1 to 99
Pulses per charge: 3.000
Dimensions: 44 x 13,5 x 21,5cm
Weight:9,5kg with battery